We Are Making History Together
August 30, 2018 by Naomi Reem (Faculty and Staff)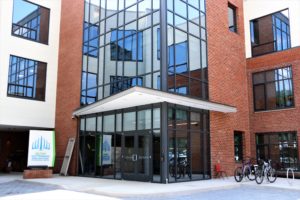 Together, we are making history! In a few short days, we will joyfully open the doors to our two beautiful campuses. We can't wait for you to visit and see the bright classrooms, inviting community spaces, and shared learning spaces including the Beit Midrash, two science labs, a design lab, an art room, a music room, four libraries, the South Campus sadnah, a regulation-size gym, the natural playscape at South Campus, the new playground at North Campus, the gaga pit, a rooftop playing field and more!
We will warmly welcome 394 students – the largest student body in our school's history and a 15% increase from last year – as we celebrate 30 years as the only Jewish Day School in the nation's capital! Thank you to all the students, faculty, staff, alumni families, supporters, and friends for partnering with us to build, sustain, and strengthen the school community.
We will launch the school's first seventh grade. We are thrilled to bring together a cohort of 66 students in Grades 6 and 7 who will learn, grow, and thrive in our exceptional Moses Family Middle School.
We are adopting a new Math curriculum for Pre-K through Grade 3, which will be expanded to Grades 4 and 5 in the next two years.
A record number of MILTON faculty and administrators attended professional development programs across all disciplines over the summer. The areas of learning included Israel education, Hebrew language acquisition, Judaic Studies, and General Studies. MILTON educators participated in programs at the Center for Israel Education at Emory University, Teachers College at Columbia University, Middlebury College, the Pardes Institute of Jewish Studies in Jerusalem, the Legacy Heritage Instructional Leadership Institute for the study of Rabbinics at JTS, the Pedagogy of Partnership at Hadar in New York, WISSIT (Washington International School Summer Institute for Teachers) in connection with Project Zero from Harvard University's Graduate School of Education, and the Ayeka Fellowship retreat for soulful education at Pearlstone. Five MILTON teachers became trained mentors through the Jewish New Teacher Project to support the induction of new teachers to the school and the profession, and to set them up for success from day one. In addition, the entire faculty participated in a refresher training on the Responsive Classroom. We are grateful for all our talented and dedicated faculty, and look forward to implementing their learning.
The Journey to this Moment
It is hard to imagine that a little more than three years have passed since we announced that in the fall of 2018, the school we all loved would open a newly renovated and significantly expanded North Campus. We worked hard to realize our vision because we knew that in conjunction with our beautiful South Campus, the new North Campus would provide the facilities needed to house a preeminent Pre-K to Grade 8 school. We shared with you our dreams to open an unparalleled middle school program, and our plans to rename our beloved institution to honor the memory of Milton Gottesman – all of which was made possible by one of the largest gifts ever given to any Jewish day school in the country.
The first day of every school year is magical. But on this first day of school, we are also seeing our plans come to fruition. In just a few days, the South Campus will be filled with students eager to start their journey at MILTON, and the North Campus will be brimming with excitement as students and teachers inaugurate their new learning spaces.
We are thrilled to start the school year with all your children! We especially welcome our new students in every grade who are joining us this year. We also welcome you, their parents. We look forward to partnering with you to ensure a year of joy, learning, and growth. Welcome (and welcome back) to the warm, vibrant MILTON community. It's going to be an incredible year!