Zoning Approved for Middle School – Moving Forward Toward the Future
January 21, 2016 by Naomi Reem (Faculty and Staff)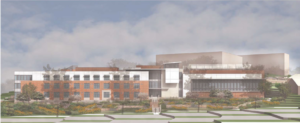 This week, we received in the mail the Board of Zoning Adjustment (BZA) letter stating that JPDS-NC has been granted all the special exceptions and variances needed to move ahead with the expansion and renovation plans for our North Campus. The letter officially confirms the decision made by the BZA at a hearing last week.
Reaching this critical milestone allows us to delve deeper now on the more exciting aspects of the expansion: developing the plans for the interior of the building, including the elementary school wing, and building a curriculum and learning environment that respects and celebrates the cognitive abilities, the physical and social-emotional needs, and innate curiosity and spiritual life of our elementary school and middle school students.
The BZA ruling was the result of the almost year-long work of our team of professionals: architects, project manager, real estate lawyer, and traffic consultant, along with passionate and determined JPDS-NC trustees and volunteers: Helaine Greenfeld, Rob Zucker, and David Kurtzer-Ellenbogen, of the External Affairs Committee, and Kimby Berger and Emily Appelbaum, of the Facilities Committee.
Our efforts included collecting and implementing feedback from parents, faculty, staff, and neighbors. We held two neighborhood open houses, presented in three neighborhood civic associations, and finally secured the unanimous support of our local ANC (Advisory Neighborhood Commission), which went a long way to receiving unanimous approval from the BZA. "For several months, JPDS-NC reached out to our immediate neighbors, ANC4A and the local neighborhood associations to explain how the expansion to include a Middle School addresses the desire of families to continue to give their children a Jewish day school education with the quality and spirit that they expect, near where they live. We were very grateful that all those we engaged viewed the school as an asset for the community, and look forward to contributing positively to our neighborhood for many years to come," said Rob Zucker, Chair of the External Affairs Committee for the Board of Trustees. "We want to thank the JPDS-NC parents and community members who played an instrumental role in our outreach efforts by attending the ANC meeting, and communicating with ANC members and their neighborhood associations about the project."
This is a historic moment in the life of the school. Please help us build the future – let us know what aspects of the work ahead appeal to you and join us in creating a new phase for our school and community.