Winning Cadena Team Makes Life-Changing Trip to Mexico
November 10, 2022 by Elizabeth Zitelli (Faculty and Staff)
The first step in the MILTON Design Thinking Process is "Empathize." Before they begin to design anything, students are asked to first imagine the needs of another person.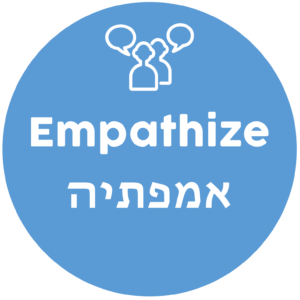 Tsion Getachew('22) and Eva Schwartz('22) epitomized the power of beginning with empathy in their winning design for the International Cadena Challenge. Their project was chosen out of 180 entries from students around the world, earning them second place internationally and a trip to train with Cadena at their headquarters in Mexico. Tsion and Eva could scarcely imagine the ways their powers of empathy would grow on this life-changing trip. 
At every step along the way, Cadena leaders anticipated their needs, engaged them in real work, and honored their potential as social innovators. 
Tsion and Eva traveled with teacher Elana Cohen on a sunrise boat ride through ancient Mayan waterways to visit a sustainable agriculture project where workers, many of them recent immigrants, grow organic produce for local chefs.
They were interviewed by Diario Judio Mexico. 
They met up with another winning team from Colombia to undergo training at Cadena headquarters. Responding to the evolving situation on the ground, Cadena then prepared them to work directly with Venezuelan refugees at a center. 
This direct-service work proved to be the most moving and transformative experience in the trip. In a shelter originally designed to house 80 migrants, the team encountered 600 newly arrived Venezuelans, eager for support and connection. Tsion and Eva engaged especially with the children, providing supplies and opportunities for joyful play after their difficult journey. "It was hard and heartbreaking work," Elana Cohen reported. "There was so much need but it was inspiring to see our students rise to meet the need. To be joyful and playful with the children." 
After the refugee center, the team members were tired, but moved directly into Shabbat with the Cadena leaders. They met with a Cadena psychologist who helped them process their experience. General Secretary Benjamin Laniado counseled the students, as they despaired at the depth of the need they'd witnessed, "You gave them hope. They gave you perspective. As Jews we are not allowed to be indifferent." 
Tsion and Eva were inspired and changed by the trip. Eva's mother, Nina Schwarz wrote "Those children taught her that despite what life throws at you, even children can be resilient enough to find a moment of joy by playing with other kids." Tsion resolved to start a Cadena chapter on her high school campus. 
Elana Cohen is dedicated to beginning the process again with a new crop of innovators. Since 2020, MILTON students have grappled with ways to help people in disadvantaged situations and designed innovative solutions to help them. In 2020 and 2021, MILTON students won the DC regional competition and participated in an online international competition. Due to pandemic restrictions, their experiences were remote rather than in person. For the 2022-23 school year, ten eighth graders have just begun the Design Thinking process with Elana Cohen as an elective. Perhaps some of this new crop of innovators will be able to experience a meaningful humanitarian aid mission as well, or at least be inspired to use their privilege to help those in need, in keeping with MILTON's commitment to Tikkun Olam (repairing the world.)