Reflections by Purim Ball Honoree Pamela Wexler
March 31, 2016 by Pamela Wexler (Community)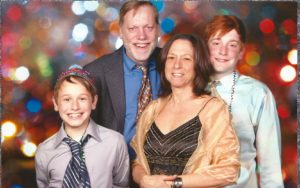 It's hard to know exactly what to say when you are honored for doing something you do voluntarily. The customary "you're welcome" or "our pleasure" doesn't convey quite the right sentiment because those words suggest we were giving something — and of course, we never felt like we were giving anything — we always felt like we were receiving. We received the joy that is being in the school building during the school day when it is alive. We received the fun of being with our kids, watching them learn, eat lunch, and play sports. We received the benefit of working with amazing administrators and staff and all the other parents who work together to make JPDS-NC happen. And Seth and Eli received the gift of a Jewish day school education — something Kent and I didn't even know we were looking for.
Every family has a slightly different JPDS-NC story. Ours is the family that literally stumbled into the school. Our in-boundary DC public school didn't offer a healthy environment. A neighbor told us about the school and seeing as Seth met an important entrance criteria – he was Jewish — we decided to take a look.  Individually, Kent and I both fell in love with what we saw, and decided to take a chance and enroll. After all, we figured we could always move. We thought we had found a school for Seth just because he was Jewish, but it turns out that it was the other way around — our children found their Judaism just because it was time for school.
I want to take this moment in the spotlight to remind you, not of our different JPDS-NC stories, but instead of the one thing that binds us together — our universal belief in the value of Jewish day school education.
Maimonides, in reference to Leviticus' command to love others as you love yourself, suggests we must go further — וכל מה שארצה לעצמי, ארצה לו כמהו — "Whatever I want for myself, I want the same for others." With your support of JPDS-NC, you are helping to give other Jewish families the same unexpected gift of Jewish day education we have been privileged to experience, and for that, I can say thank you.