Panda Profile – Gveret Pinchasi-Roll
September 20, 2023 by Elizabeth Zitelli (Faculty and Staff)
Gveret Pinchasi-Roll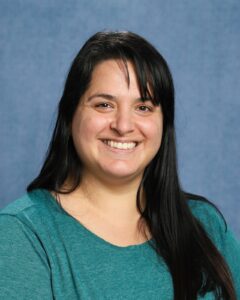 What do you teach? 
I teach Hebrew to Grades 6-8 and I'm an Advisor to Grade 8.
Why do you teach? 
On my last day of kindergarten, my mom and big brother came to pick me up and while my mom talked to my teacher, I whispered to my brother that I wanted to be a teacher just like my teacher when I grew up. I still remember her, and during Covid, I found her on Facebook and wrote her that I made my dream come true and she was so happy.
What do you love about MILTON? 
I love the MILTON community. It is a home away from home. The students are fun and sweet, and the staff is amazing.
Your teaching style in three words? 
Fun – strict – love
If you were an animal which animal would you be? Why? 
I think I would be a dog. I'm loyal to the people I love and I always want to be happy
I love to sing. I love watching TV and movies. My new hobby is making cool things with my Cricut.
Favorite Food – Bamba and Chocolate Milk will forever be my favorite.
Favorite Team – Hapoel Tel-Aviv
Favorite Book – Harry Potter
Favorite Movie – Matrix & Harry Potter
Favorite Place to Travel – New York to see family!
Tell us about your family…
Most of my family is in Israel. I have one older brother who has three kids. I have two younger sisters, and one baby brother (just because he is 22 years old doesn't mean he isn't my baby brother).
Do you have a pet?
I have a family dog in Israel named Kika. I had a parrot named Roller that stayed in Israel when I came here.
Have you created or accomplished something that you would like to share? 
Eight years ago I came to America on my own and created a good life for myself.
Do you have a favorite obscure Jewish blessing or reading? 
Shehecheyanu (the blessing you say when you arrive at the finish line successfully) because when you say it that means you accomplished something big.
What is a dream trip you have yet to take? 
I want to go on an Alaskan Cruise.
Do you have a favorite moment at MILTON? 
I love the first day back, when you get to see everyone again after the summer.
Is there something else we should know about you that we didn't think to ask? 
Laughing is my way of life.