Panda Profile – Ciarra Carpenter
November 15, 2023 by Elizabeth Zitelli (Faculty and Staff)
Ciarra Carpenter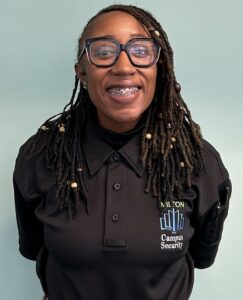 What is your role at MILTON? 
Campus Security Officer
Why do you choose to work at a school? 
I love being around positive energy, which I think that little humans bring into the world!
What do you love about MILTON? 
I love how professional everybody is, and appreciative of everyone's work.
If you were an animal which animal would you be? Why? 
I would be a lion. The king of the jungle!
Do you have Hobbies or Pastimes? 
Reading, painting, and enjoying the outdoors. I'm an artistic person. I love painting and drawing.
Favorite Food – Breakfast Wrap and Eggs
Favorite Team – Dallas Cowboys
Favorite Book – Harry Potter
Favorite Movie – The Fifth Element
Favorite Place to Travel – Paris, France
Tell us about your family (either near or far.)
My family is loving, caring, and down to earth.
My dog Poncho is two years old.
What is a dream trip you have yet to take? 
Paris. I'm dreaming of going there.
What is your Favorite moment at MILTON?
I've only been here a short time, but I'm really enjoying meeting all the staff.