MILTON Educators Recognized by Kohelet Prize for Progressive Education
February 15, 2018 by Naomi Reem (Faculty and Staff)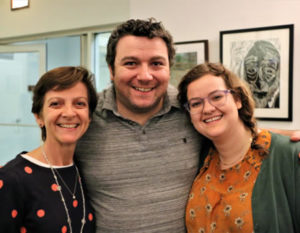 We are thrilled to announce that, for the second year in a row, Kindergarten teachers Lisa Davis, Xani Pollakoff and Vas Pournaras were recognized by the Kohelet Prize for Progressive Education. The teaching team received an Honorable Mention in the category of Learning Environment for their in-depth, multi-disciplinary project to create a South Campus Community Theater.
The pedagogy behind the project included design thinking, experiential education, project-based learning, whole brain teaching, and the cultivation of 21st-century skills. Throughout, Kindergarten students honed skills including research, writing, math, science, engineering, art, and design, along with deepening their knowledge of Jewish values. The exploration was guided by the theme of community as our classes considered essential questions like, "How does theater give us a voice and promote dialogue in our community?", "How can theater be the vehicle to help us represent our community?", and "How can we learn more about our community by studying theater?" The semester-long project culminated in the construction of the South Campus Community Theatre – complete with stage, curtains, costume closet, props, costumes, backdrops, and set pieces – as well as three original scripts, written and performed by our Kindergarten students. Learn more about the project.
Additionally, third-grade educators Jessica Friedman, Mindy Hirsch, and Melissa Rickabaugh submitted an entry for the Children's Guide to Statuary Hall. Written by the third graders of MILTON as a gift for the Capitol Building to use with young visitors, the guide was written by children for children. The project pedagogy included design thinking, inquiry-based learning, and project-based learning. Throughout, third-grade students developed research, questioning, critical thinking, analysis, and written communication skills, and they learned the importance of learning from experts. Learn more about the Children's Guide to Statuary Hall and the ways MILTON provides students with meaningful opportunities to connect and contribute to the nation's capital.
In 2017, two teams of MILTON educators received the Kohelet Prize for Progressive Education: Kindergarten teachers Lisa Davis, Xani Pollakoff and Vasilios Pournaras for the South Campus Community Library, and Elementary School teachers Mindy Hirsch, Melissa Rickabaugh, Devora Hornstein, Kelly McAllester, Vinny Prell, Hanina Goldstein for Election Project: Kids' Voices Count.
Kol Hakavod to all our amazing educators!