JPDS-NC Announces Elementary School Director
March 8, 2016 by Naomi Reem (Faculty and Staff)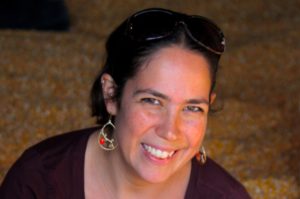 It is with great pleasure that I welcome Arielle Derby as our Elementary School Director, effective July 1, 2016.
Arielle is a master educator, curriculum developer, and administrator who has served Jewish day schools in multiple capacities. She spent most of her career to this point at the Lerner Jewish Community Day School in Durham, NC, ultimately serving as Principal of the school, overseeing its full educational program and supervising its faculty. Prior to that post, Arielle served as the Director of Judaic Studies at Lerner and also taught in both General Studies and Judaic Studies. Since moving to the Washington, DC, area just last summer, Arielle has been a General Studies teacher and tefilah leader at the Charles E. Smith Jewish Day School. Earlier in her career, Arielle also taught at the Hannah Senesh Community Day School in New York City. She earned her undergraduate degree at Smith College and a Masters Degree in Childhood General Education at Bank Street College.  We are thrilled to welcome Arielle to JPDS-NC, where her unique skill set and experience will allow her to move our Elementary School forward, building on our current strengths.
As a day school alumna (K-8th at Abraham Joshua Heschel School in New York City) and as someone who has made her career in the world of Jewish day school education, Arielle brings a deep and personal understanding of the strengths and challenges of day schools, as well as the opportunities that day schools create for students, families and faculty. Her vision of education, nurtured over many years of dedication to it, fits very well with JPDS-NC. In her philosophy statement, Arielle writes, "I understand that all children can learn and excel; as the educational leader, it is my job to ensure this. The path to success may be different for each child, but it must include the hands-on, inquiry-based, creative, purposeful, and dynamic learning experiences that are a critical component of academic excellence." Arielle brings with her knowledge and experience in a wide range of areas related to elementary education, including educational technology, of which she writes, "Technology has brought incredible innovation to the classroom in recent years, and is a necessary and amazing tool for engaging learners of all kinds and providing differentiated instruction." As we continue to move forward in the path of integrating the best that technology has to offer in our school, Arielle's knowledge and experience will be invaluable.
We invite you to read the letter from Arielle introducing herself. We look forward to welcoming her into our community over the next few months. Melissa Davis (Early Childhood Director) and Lisa Schopf (incoming Middle School Director), as well as our elementary school instructional leaders (Janet Collier, Shoshana Sfarzada, and Zahava Bensimon), Sharon Freundel (incoming Director of Jewish Life), and our Student Support Team are joining me as we plan for a smooth transition into our school community for Arielle and other new hires over the next few months. We are looking ahead to the JPDS-NC 2016-2017 academic year with excitement and confidence!
Stay tuned for opportunities to meet Arielle and to get to know her as she prepares to assume her new position this summer.