Effective Altruism, Emotion, and Twenty Million Dollars
December 10, 2015 by Adina Kanefield (Faculty and Staff)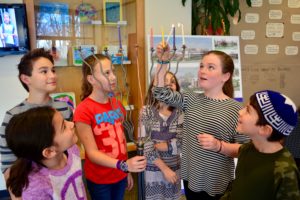 Chanukah evokes images of sanctity and strength, renewal and dedication. It also brings to the fore the value of giving. This has been a big year of giving at JPDS-NC… and continues to be. From last weekend's article in The New York Times contrasting the movement of "effective altruism" with emotional and empathetic roots of giving, to the long tradition of gemilut chasadim that serves as the core of our instinct to give, there is much to think about when it comes to giving. With Chanukah gifts and gelt surrounding us, we all search—especially at this season—for meaning behind giving. Chanukah, which celebrates the rededication of the temple, reminds us that our own gift-giving invokes the sacrificial offerings that Jews brought to the temple altar. We recall that gift giving was (and still is) a way to honor and connect with God. Scholars point out that the word "Chanukah" contains the root "chinuch," which means education.  Some historians suggest that the tradition of giving gelt at Chanukah began with the idea of parents rewarding teachers, and eventually students, for intense Torah study that was expected during Chanukah. Others share that when the temple was rededicated during post-Hellenic rule, the need for the re-education of Jews was so paramount that gifts were used as a reward for rekindling Jewish knowledge.
Today those themes of rededication, reaffirmation, learning, kindling, emotion, and yes, effective altruism, permeate the giving here at JPDS-NC. They also got me thinking about our recent 20 million dollar gift, and how it came about….
What motivates someone to give so significantly?
The gift begins with a generous spirit and an open heart. It comes from someone who sees life through a Jewish lens. Someone who believes in the power of Jewish education. Someone who sees the value and potential of this school. Someone who is thinking deeply about the future of Jews.
How did this gift happen?
It happened because of Alfred Moses and his dear friend Milton Gottesman, and Milton's extended Gottesman family. They found us and believed in us. And they motivated a young family, Chani and Steven Laufer, to join them as leaders. But it would have never happened had JPDS-NC not been the vibrant and strong institution that it is today, built by hundreds of individuals who gave their hearts and souls to the school over the years: Founders who dared to send their precious children to a school with no track record. Board members who worked into the late hours of the night taking JPDS-NC calls while working in India or sailing on the high seas of the Atlantic. Dads who dish out pizza at hot lunch and moms who suddenly become architectural design experts and facility project managers. Faculty and administrators who cultivate exploration and join their students as partners in the learning journey. Students and alumni who go forth in the community and stand out as knowledgeable, engaged, accomplished, and kind individuals. Supporters who make JPDS-NC their philanthropic priority and stretch to make a meaningful gift to the school. And benefactors like Dr. Robert Schattner who fortified the school at every milestone of its history and laid the foundation for our success today.
Why us?
It is because Judaism comes to life at JPDS-NC with joy and meaning. It is because our students not only receive an excellent education, but they also learn to be good people. As one of our graduates revealed, "We have learned to ask good questions, to answer wisely, to care for one another, to explore, to believe, to live in the moment and reflect, to wonder, and most importantly, to feel joyous that each of us is unique." In short, for those who search for a rich life and a promising future, JPDS-NC is the right investment. And it gives back.
May we all continue to dedicate ourselves to our rich tradition and this great cause.