Alumni Highlight: Leah Schultz ('04)
April 18, 2016 by Rhoda Hersson-Ringskog (Community)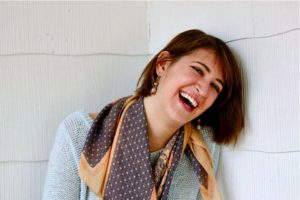 Leah graduated in 2004. Reflecting on her time at JPDS-NC, she shared what she loved most about the school: "JPDS-NC was a wonderful place for me to grow, learn, and really grow to love learning. It was an incredibly supportive environment, one where students felt they could participate. The small classes allowed you to be friends with everyone in your grade and it was obvious even to me as a student that the parents and teachers worked together for our benefit." Classroom citizenship skills developed in those early years. "Having teachers listen to you and value your ideas at a young age gives one the confidence to engage in the classroom long after graduating from the school," said Leah.
Her connection to Judaism took shape at JPDS-NC and has stayed with her all these years later. Leah remembers "loving learning about the middah of the month" and she incorporates those lessons in her daily life. "The importance of loving the stranger as yourself resonated with me in particular and guides me to this day. In a world where too many of us live in fear of those who appear different, we must seek understanding. Not only does this middah invoke love and empathy for others, but it opens one up to understanding different perspectives. This combination of critical thinking and compassion is extremely important to me."
It is that compassion and empathy for others that brought Leah to her current field of interest in human rights. This year, she began work as the Human Rights Defender Intern at Human Rights First where she assists the director of the program in conducting research on the status of human rights in Bahrain, Egypt and other countries. Leah has also been working part-time at a law firm in Dupont Circle where she conducts document and data analysis in support of a whistleblower lawsuit.
Leah attended Bates College in Lewiston, Maine where she majored in politics and graduated in 2014. While at Bates, she studied abroad in Morocco, and participated in a month-long anthropology class in Saudi Arabia. On campus, she was active in J-Street U and Hillel, serving as the President for both organizations in her senior year. Leah also worked as a fellow in her school's multi-faith chaplaincy, organizing on-campus interfaith events and planning the Baccalaureate ceremony for her senior class. While in college, Leah spent her summers working at Ramah Outdoor Adventure in the Rockies where she led 4-6 day events. After graduating from college in 2014, Leah spent seven months in Israel studying Arabic at the Givat Haviva Center for the Shared Society, where she also took classes in Hebrew, Jewish history and the history of the Middle East.
Leah's wish for JPDS-NC's future is that "as JPDS-NC grows, it maintains a sense of community and camaraderie between students, parents and teachers alike. We did not have a permanent building until I reached the 6th grade and we didn't always have a proper playground or fancy facilities, but this never really bothered us as students. As JPDS-NC students we felt we were a part of something special, that our school had a heart. Now that JPDS-NC is beyond the days where it struggled to find a physical home, we must remind ourselves that the strength of the school comes not from what money can now buy, but from the supportive and loving spirit that has characterized JPDS-NC since its inception."
Leah, and all of our alumni, remain "part of something special."